Quick Summary:
The blog covers the vast application of smart Battery Management System along with its benefits. The modern digital world is marching ahead with electrical products revolutionizing the human lifestyle. Batteries have become pivotal in the manufacturing of such modern-day equipment. Hence, the application of smart BMS becomes vital to ensure batteries' safety, performance, and maintenance.
Introduction to Smart BMS
Varied modern utility applications from diverse industries use types of batteries for functioning. Laptops, smartphones, industrial machinery, electric vehicles, cranes, robots, and whatnot are run using batteries. For optimum usage of these batteries and systems, it is crucial to look after the performance, safety, and monitoring of these batteries.
The role of a smart Battery Management System (BMS) is to monitor and report the associated battery's health, performance, and maintenance. The vast application of smart BMS range from data centers, hospitals, banks, telecommunication towers, energy storage stations, and more. Data says that 80% of system failures occur due to undetected battery issues.
Our smart BMS enables production users and manufacturers to estimate the State of Health (SoH) and State of Charge (SoC) of the elected battery. It also allows cell balancing and detects the state of the battery- whether it is active or dead.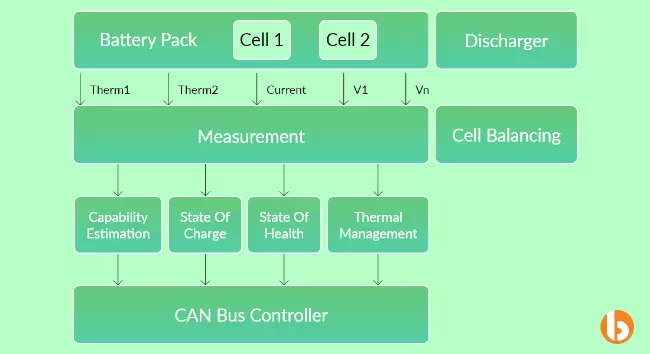 Battery Monitoring System Measuring Parameters
Our BMS measures the following parameters of batteries:
Cell Voltage
Cell Internal Temperature
String Voltage
Ripple Voltage
Ripple Current
Ambient temperature
Auto-balancing
Diagnose and alert Event logging
Concerned about the immunity of your Battery Systems?
Bacancy's Smart BMS ensures your battery's charging limit, enhances performance, & eliminates haphazardous outbursts.
Application of Smart BMS
There are varied applications of BMS across industries and markets. We have categorized briefly, yet there can be even more applications possible.
Let us have a look at broad classification for BMS applications.
Industrial
Smart battery management systems find massive usage in the industrial machinery to enhance battery longevity, as well as to manage the charging and safety of the machines like
? Electric train traction batteries
? Forklifts
? Garbage compressors
? Lifts & cranes
? Robots & shuttle robots
? Electric street sweepers
Automotive
Our intelligent BMS are applied with varied automotive applications along with the key grade components. Applications of smart BMS can be found in the following
? Passenger cars
? Utility vehicles
? Sports cars
? Superbikes
? Trucks & buses
? AI-piloted SUVs
Marine
Modern digitized equipment and tools are touching the marine industry markets, and hence the application of smart battery management systems can be found in
? Submarines
? Marine batteries
? E-wakeboards
EV
The most common usage of BMS is seen in the light-EV segment. The common man can relate to it the most
? Golf cars
? Golf cart batteries
? Electric trike (3 wheeler)
? Quads
? Scooters
Energy Storage Systems
Industrial ESS or grid systems make use of smart BMS for increasing safety, performance, and battery life. Our secured and smart BMS uses a cloud platform (IONDASH) to provide a sophisticated user interface.
Benefits of Smart BMS
Functioning and working with batteries can be dangerous because it could lead to a catastrophic incident. Slight mismanagement, ignorance, or negligence of attention can cause malfunction with high-voltage packs.
Thus, the use and application of smart BMS is inevitable and essential. Here are some of the advantages of applications of smart battery management systems.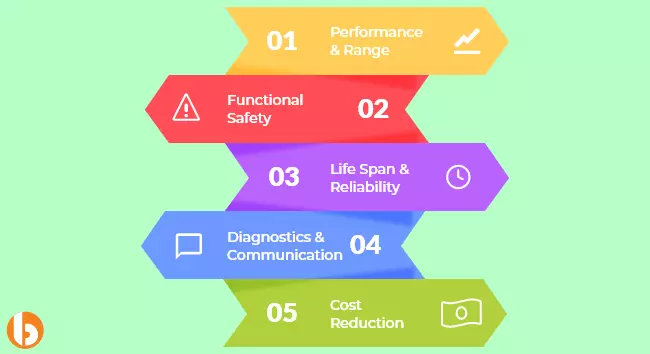 Performance & Range
BMS offers battery pack capacity management enabling cell-to-cell balancing to maintain the state of charge of the adjacent cells in the assembly pack. The smart BMS is responsible for the self-charge/discharge, lifecycle aging, temperature effects, and other variations. Without any of this, the use of BMS is futile.
Hence, the applications of BMS ensure that your battery is always functioning at optimum performance and range.
Functional Safety
Irrespective of the multifold precautions and safety considerations, lithium-ion batteries have caught fire in odd scenarios. Battery management systems are vital to trace down potential errors and haphazard incidences because they will constantly monitor the battery and prevent accidental damage to the product and user.
Life Span & Reliability
Within a smart BMS, the battery pack protection management ensures that all the battery cells' thermal and electrical energy is used evenly and in a safe operating area. This check ensures that your battery will have a long lifespan without any abrupt malfunctions. One can rely on such safely used batteries.
Diagnostics & Communication
For complex machinery and vast production and manufacturing units, monitoring the battery parameters becomes quite essential for computing balancing algorithms and calculating other estimations and measurements. Systems need to convey the data by relying upon dependent machinery, which is how smart BMS depicts resident available energy, expected lifespan, and estimate the state of health. The application of smart BMS hence enables diagnostics and communication for smooth operations.
Cost Reduction
When you incorporate a smart battery monitoring system into your battery energy storage system, there is a major cost investment because BMS is expensive. However, owing to the multifaceted benefits of the application of smart BMS, such as performance estimation, reliability, safety, and diagnostics, it will certainly prove beneficial and ultimately reduce the overall cost of battery management.
Conclusion
Now that you know the essential and vitality of battery management systems as well as the application of smart BMS in diverse industries, what are you waiting for? Reach out to us – we are the industry's top BMS manufacturers in India; our smart BMS is reliable, safe, intelligent, and offers performance boost and longevity to your batteries.
Frequently Asked Questions (FAQs)
The crucial aspects that a BMS covers are:
Ensuring Cell protection and passenger safety
Calculating State of charge (SoC) & State of health (SoH)
Ensuring Cell balancing
Yes, a smart BMS will monitor the battery distinctively and hence notifies you to prevent overcharging of battery.
Our smart BMS uses the CAN (controller area network) communication protocol.