Quick Summary:
This blog covers insights into the vital role that AC charge controllers play in the EV charging process. Find out how to choose the ideal and right-fit from the available different types of AC charge controllers for your charging stations and EV charging facilities, along with the factors to keep in mind when selecting the suitable one.
Evolution of the EV Industry
The global electric vehicle (EV) industry continues to evolve at an alarming speed. In recent years, there has been a significant increase in the sales of electric cars, buses, and trucks. Technological advancements, government policies promoting EV adoption, and raising awareness of the need for sustainable transportation are key drivers of evolution in the EV industry.
The EV industry in India is still in the primitive stage but is proliferating. The Indian central and most state governments are playing successive roles in promoting EV adoption. It has launched several initiatives, including two schemes from FAME (Faster Adoption and Manufacturing of Electric Vehicles in India).
Despite the EV industry's growth, several challenges need to be addressed. These include the high EV cost, limited range, lack of charging infrastructure, etc. An important point is the knowledge deficit in choosing the right-fit charge controller for the charging units. EV charger manufacturers need insights on the different types of AC charge controllers available in the market, and the deciding parameters to find the suitable controller for their specific charging facilities.
Hence, in this blog, we have covered that for you.
What is an AC Charge Controller?
An AC charge controller is the core element of a EV charging station. It is the basis of the AC charging infrastructure and comes with extensive features and user-interfaces. The AC charge controller plays a critical role in charging an electric vehicle safely and efficiently.
When an electric vehicle is connected to a charging station, the AC charge controller sets the appropriate charging rate and regulates the flow of incoming AC power to the EV, ensuring that the vehicle battery is charged safely and efficiently with the required power supply.
You will find different types of AC charge controllers in the market, varying in terms of their features, capabilities, and compatibility with different charging stations. Some AC charge controllers may be more suitable for home use, while others may be designed for commercial or public charging stations.
When selecting an AC charge controller for your EV charging station, it's essential to consider certain factors such as compatibility, charging capacity, price, connector-type, safety features, and more. It's also important to ensure that the AC charge controller meets relevant safety and regulatory standards of your demographics.
Why is it Important to Choose a Suitable AC Charge Controller?
AC charge controllers play a crucial role in maintaining the EV charger's life. They are responsible for regulating the amount of power delivered to the vehicle's battery during the charging process.The charge controllers are responsible to manage all functions of the charger including safety, communication with servers, and managing the power delivery.
Bacancy's AC Charge Controllers are a sigh of relief in the modern EV-bucked lifestyle
Contact us today to explore our range of AC charge controllers and find the perfect fit for your needs.
Types of AC Charge Controllers
There could be varied types of AC charge controllers available in the market. You can also get a customized controller as per your manufacturing requirements and other charging facilities.
At Bacancy, we have the following types of AC Charge Controllers.
1. Single-Gun Type 2 AC Controller (7.4kW)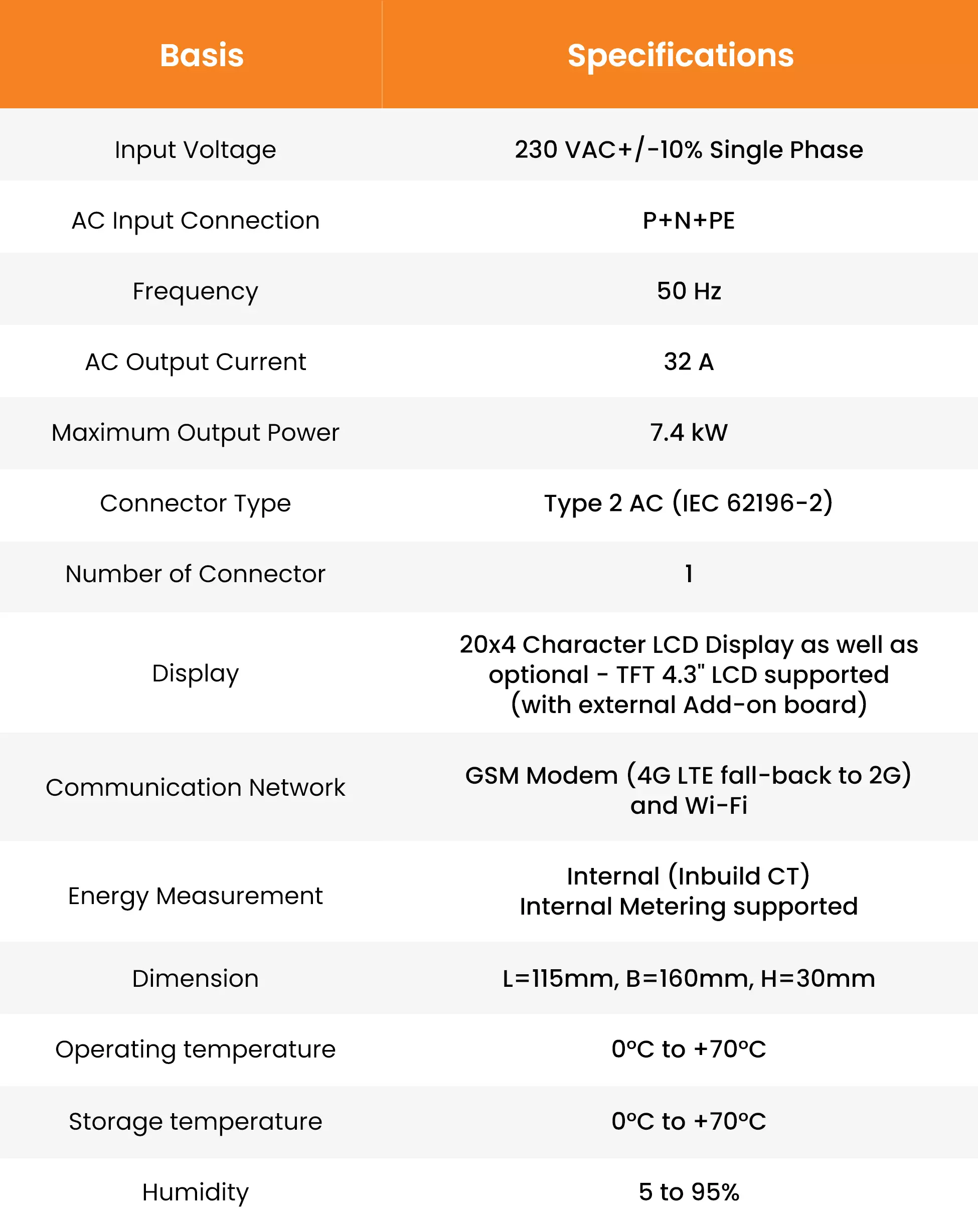 2. Single-Gun Type 2 AC Controller (22kW)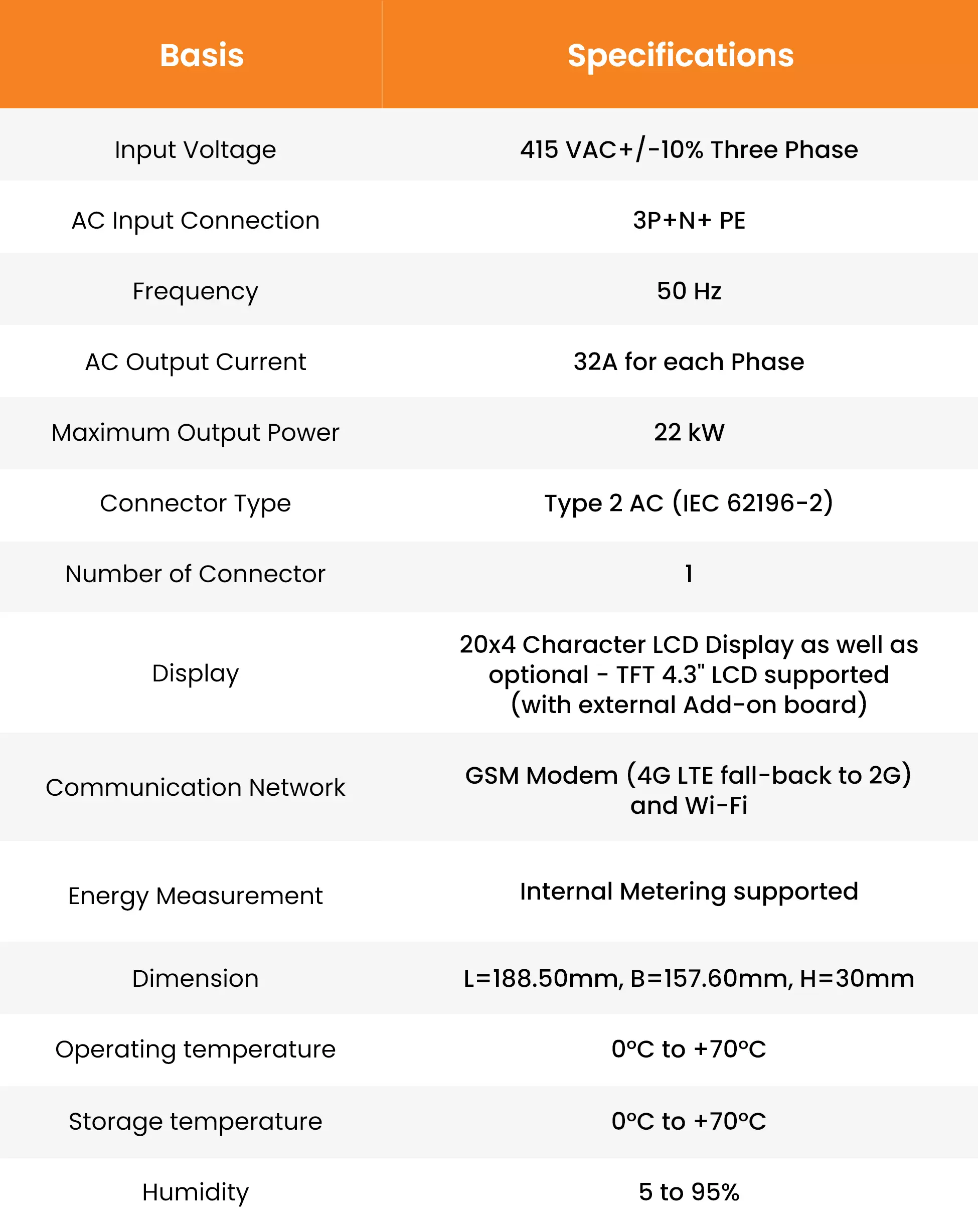 3. Hybrid Charger Controller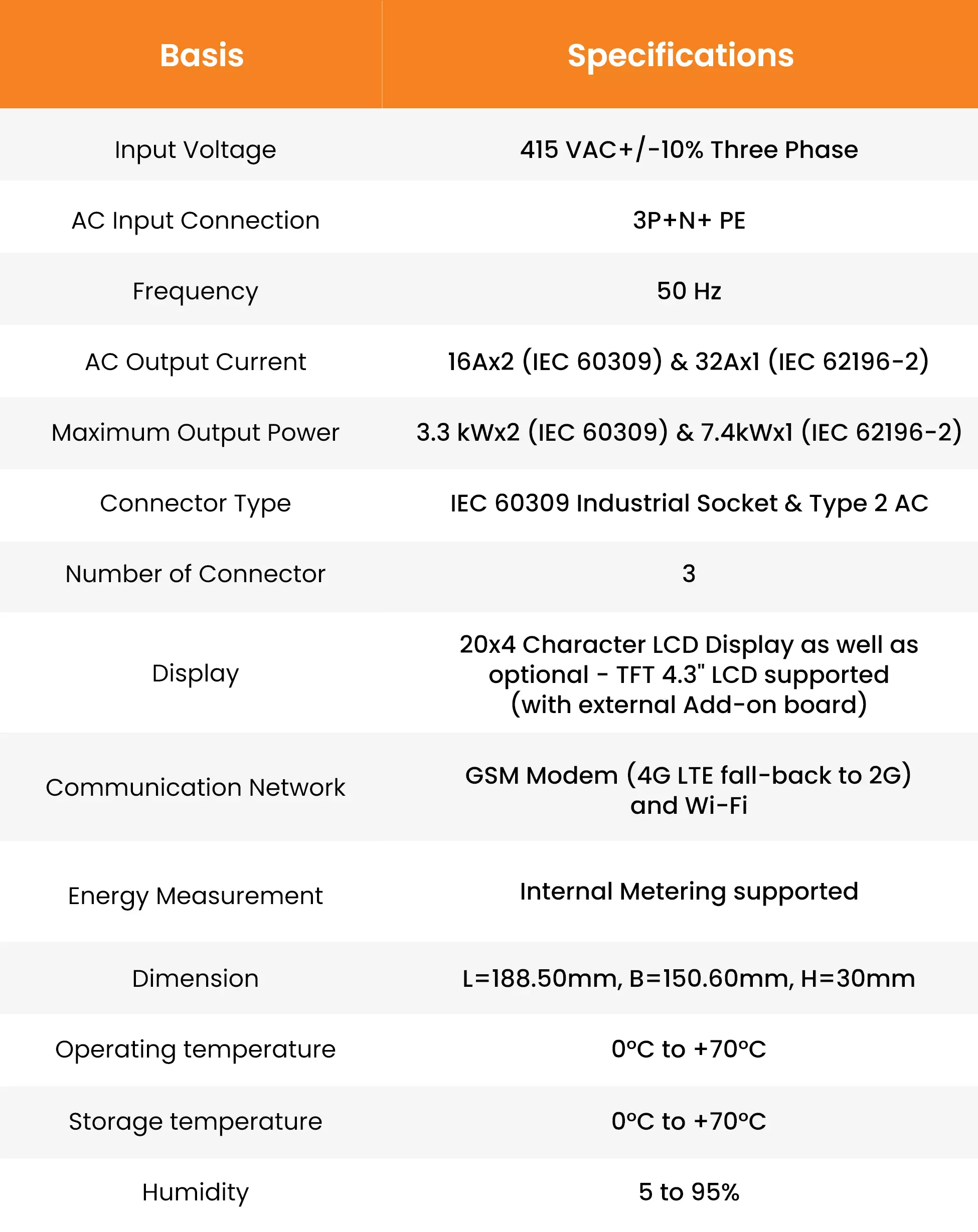 4. Bharat AC Type 1 Controller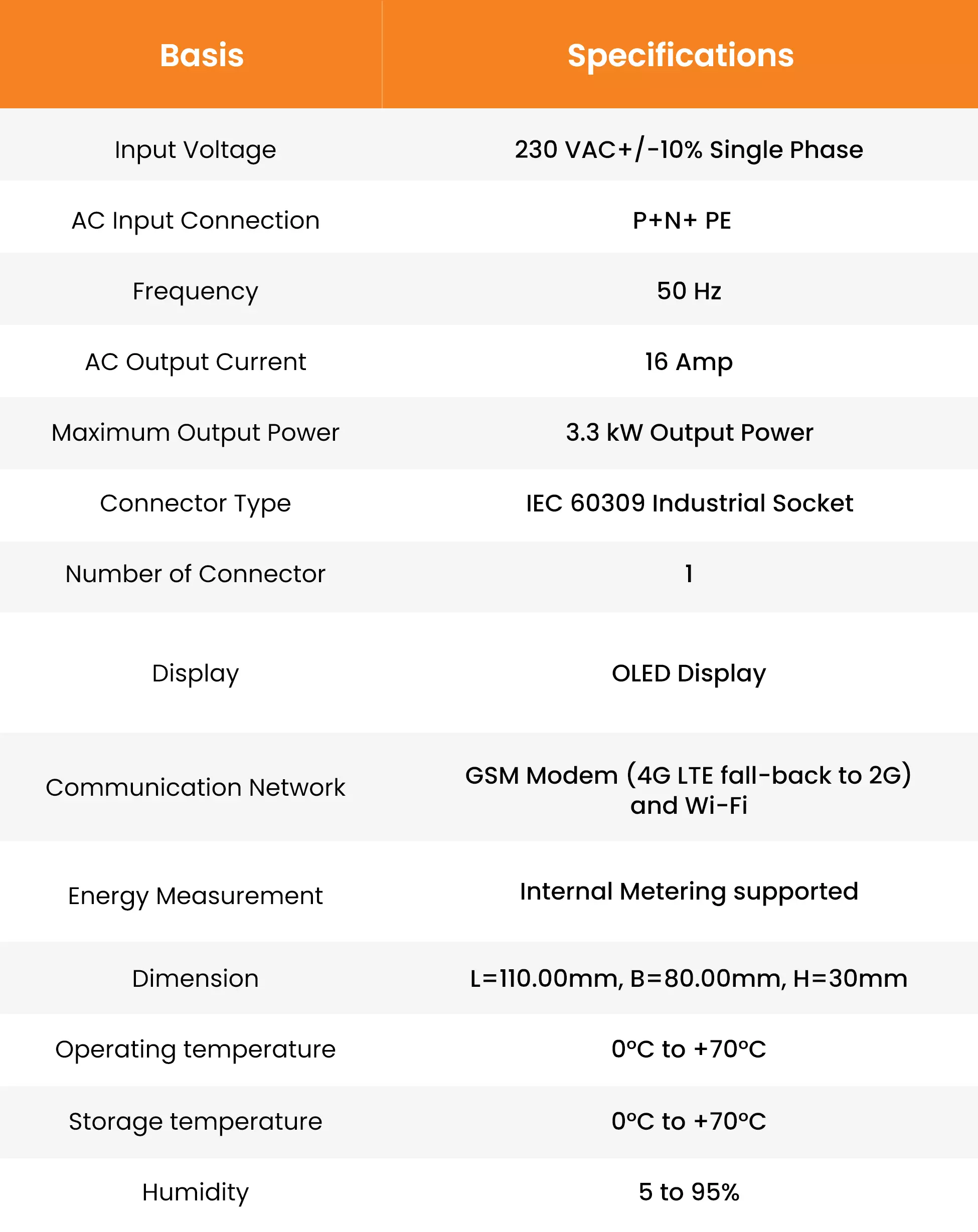 5. Bharat AC Type 3 Controller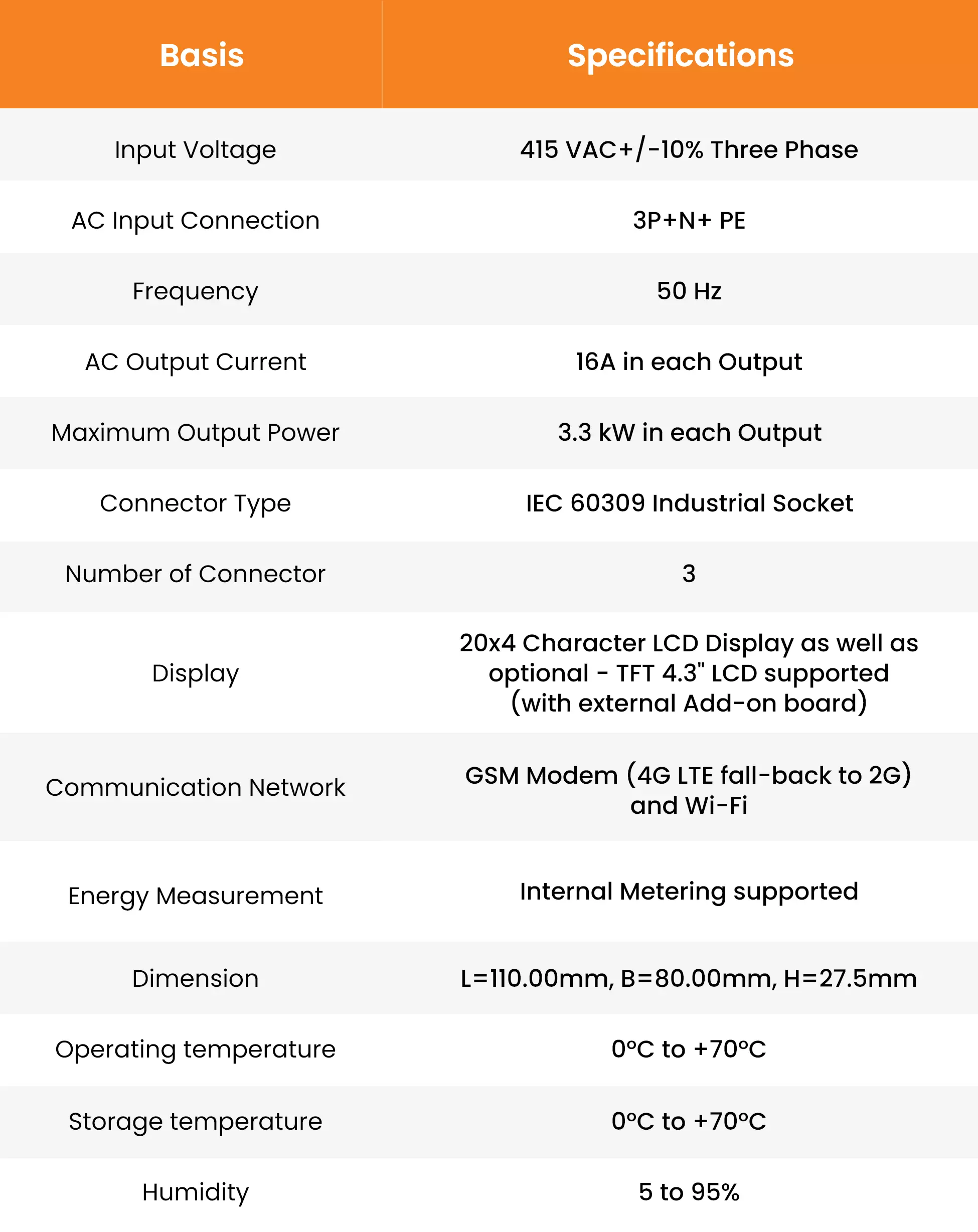 6. AC Type 2 Dual-Gun Controller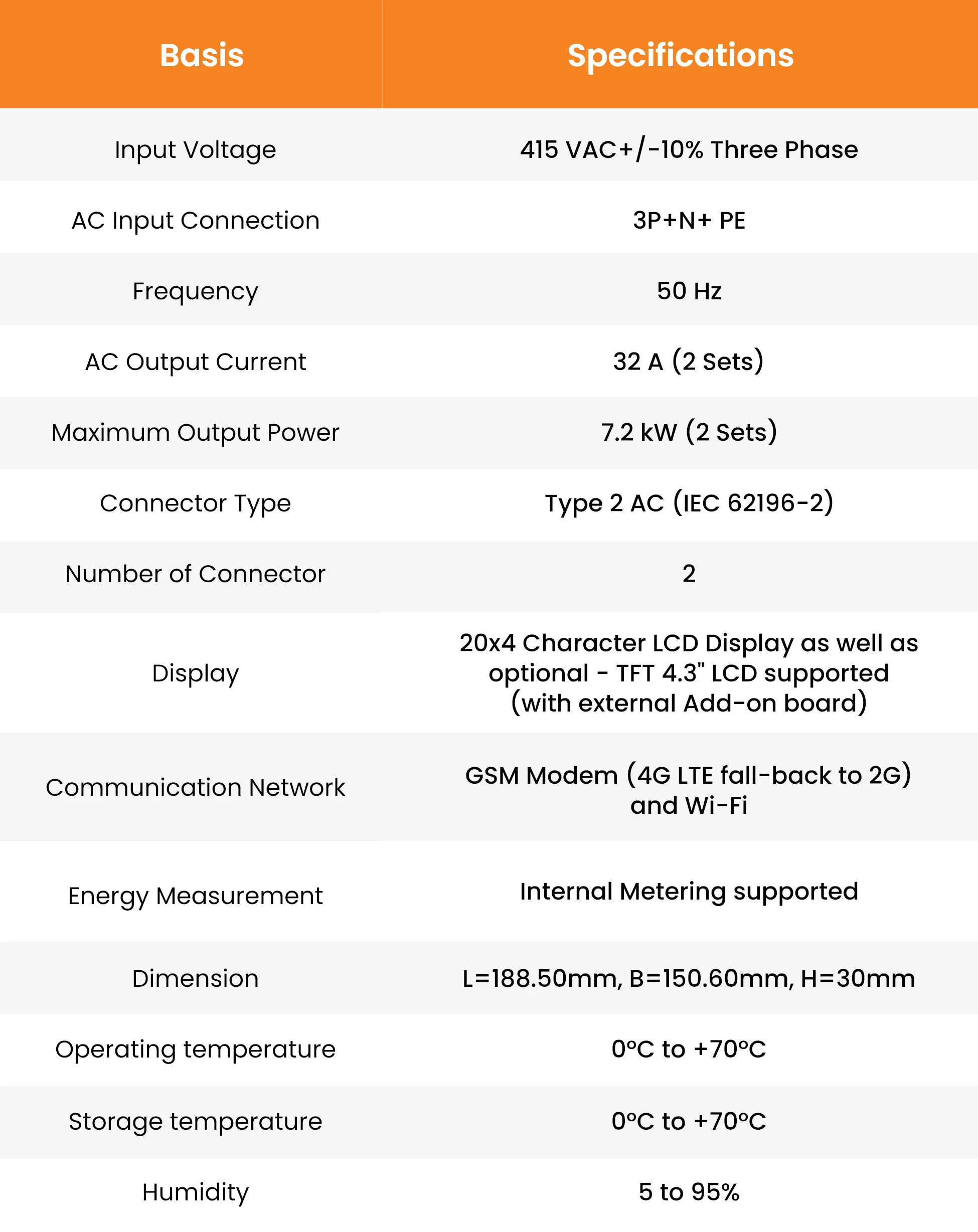 How to Choose the Right-fit AC Charge Controller For My EV?
Choosing the right AC charger controller for your electric vehicle (EV) depends on several factors, including your EV's battery capacity, charging speed, and the type of connector it uses.
Here are 9 key factors to consider when choosing an AC charger controller for your EV:
Compatibility
The charge controllers should be able to cater to latest charging standards to be able to charge the EV's. The controllers should be able to support various protocols to support output options like Type 1, Type 2, IEC 60309 outputs.
Charging Capacity
The charging performance is also an important consideration. Usually, different AC charger controllers have different charging speeds; therefore, it is important to choose the one delivering the precise charging capacity required by the EVs in your region meeting the standard regulations.
Connector Type
EVs use different types of connectors for charging, so choose an AC charger controller that is compatible with the EVs at your charging stations.
Communication
The controller has to support communications with cloud servers with various options like Wifi, Ethernet, GSM based on the on field use cases. The controllers should also support communication over industry standard protocols like OCPP.
Safety Features
Look for an AC charger controller with built-in features such as overcharge protection, over-current protection, and short-circuit protection. A properly designed and implemented AC charge controller helps ensure the safety of the charging process for both; the vehicle and the charging station.
Brand Reputation
Choose a reputable brand while selecting an AC charger controller. A branded controller comes with assurance, high-quality, reliability, and backed by a warranty.
Future-proofing
With technology advancements, your average AC charge controller might limit its compatibility with the next-gen charging stations. Therefore, selecting a scalable and technologically advanced AC charge controller, you can future-proof your EV charging setup and avoid the need for expensive upgrades down the line.
Price
AC charger controllers vary in price, so opt for one that fits within your budget. Yet, it's also important to consider the long-term benefits of a high-quality AC charger controller, such as extended charger life and faster charging times.
Installation
Consider the installation process and whether you have the necessary electrical capacity and infrastructure to support the AC charger controller.
Choosing the right AC charge controller for your EV requires a careful and thoughtful consideration of your vehicle's specifications, safety features, compatibility, brand reputation, price, and installation requirements. We hope you found it informative and helpful in understanding the importance of building a robust charging network for electric vehicles. As a next step, we invite you to download our research white paper on EV charging infrastructure in India.
Conclusion
In conclusion, choosing the right AC charge controller for your EV charging station is an important decision that can impact the safety, longevity, and efficiency of the EV's battery and your charging utilities.
Consult with an expert in EV charging infrastructure to help you choose the right AC charge controller for your specific needs. They will consider the geographic standasrds of EV specifications, safety features, compatibility, communication, and installation at your premises.
Ultimately, by choosing the right one from different types of AC charge controllers, you can help ensure the safety and efficiency of the charging process, extend the life of electric vehicle's battery, and future-proof your EV charging setup.
Frequently Asked Questions (FAQs)