Quick Summary:
The human healthcare industry is constantly evolving by the day, and data plays a crucial role in enhancing many aspects of it. However, data collection in healthcare has seen restrictions and implications for years, but post the COVID-19 pandemic, the need for adequate healthcare and monitoring solutions and the latest trends in data collection in medical devices are driving a paradigm shift in the market. This blog post highlights the critical role of accurate data collection and the importance of comprehensive data in the healthcare industry. Also, it reviews the Accu.live Wearable ECG Monitor by Bacancy, its features, benefits, and the ability to meet the evolving demands and conditions of the market.

Introduction
While medical advancements have lowered the global mortality rate, replacing infectious diseases, chronic illnesses have become the leading cause of human death. As a result, early diagnosis and proactive treatment are paramount; therefore, Data Collection in Medical Devices are gaining traction as the optimal solution for monitoring human health data is revolutionizing how healthcare providers collect and use this information. According to a Deloitte report, the remote monitoring and telemedicine market will grow to $81.3 billion by 2030.
Wearables are prominent in the human health data collection marketplace because they simplify monitoring patient health and help adjust treatment plans accordingly. The exceptional remote patient monitoring feature reduces hospital readmissions and improves patient outcomes. According to a study published in the Journal of Medical Internet Research, wearables provide accurate and reliable data for monitoring vital signs, physical activity, sleep quality, and other health metrics. Similarly, as per the National Institutes of Health, the remote monitoring of patients with chronic conditions using medical devices has reduced hospital readmissions by 50% and resulted in a 25% reduction in mortality rates.
Wearables also allow patients to track their health progress and lifestyle changes to prevent chronic conditions. Therefore, observing the growing need for wearables, Bacancy introduced an FDA-approved real-time heart monitoring device called Accu.live Wearable ECG Monitor using biosensor technology. It is operable via a mobile application that offers up to 14 human body vitals, such as heart rate, blood pressure, blood oxygen levels, and others, using 1 Lead ECG signal. It features an inbuilt temperature sensor that monitors body temperature and a motion sensor to detect daily movements such as walking, running, falls, and others. It offers a range of modes, like live and scheduling modes, customizable per user needs. Also, it provides a battery life of up to 7 days and a user-friendly interface for those looking to monitor and control various aspects of their body vitals.
The Need for Accurate Data Collection in Medical Devices
Data is the core behind everything that exists and will exist. Accurate data collection impacts the patient in all-around aspects, including diagnosis, treatment, and the user's overall experience. The enhanced accuracy and relevancy of the information collected leads to better engagement and adherence to better treatment plans. Also, the real-time monitoring of patient health can benefit those with chronic conditions by enabling healthcare providers to detect changes in health early and intervene promptly to prevent complications. Accurate data collection is crucial in researching and developing new treatments and therapies. It also allows for identifying patterns and trends in large data sets, ultimately improving patient outcomes.
But, now the question arises HOW? Well, the answer lies with Bacancy's Accu.live.

How Does Accu.live Address The Need For Accurate Data Collection?
Accu.live, as we have discussed earlier, is a real-time wearable ECG monitor using biosensor technology that is FDA-approved, secure, and reliable. It is designed to address the need for accurate data collection in cardiac monitoring. It uses out-of-the-box sensors and algorithms to present appropriate patient heart health data. Accu.live also possesses several features such as: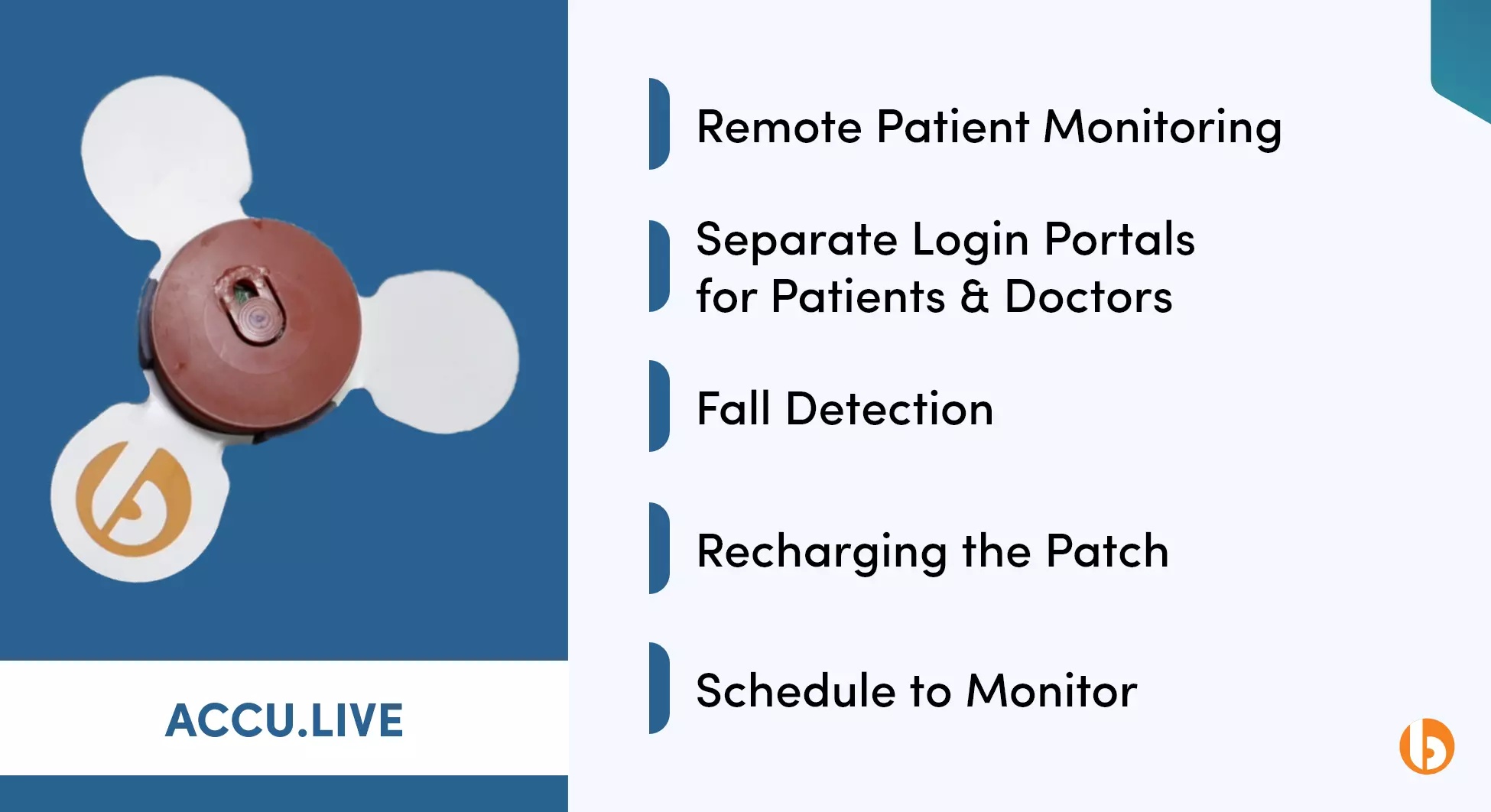 Remote Patient Monitoring
It tracks body vitals such as blood oxygen, temperature, heart and pulse rate variability, blood pressure, and MAP health data. It also allows live monitoring, where one can watch Live ECG vitals with an inbuilt alert system for critical conditions.
Separate Login Portals for Patients & Doctors
It has separate login portals for both doctors and patients. Doctors can assign Accu.live ECG monitors for home use to their patients and then access their data to monitor progress. Additionally, doctors can grant patients access to their data for self-monitoring and record-keeping purposes.
Fall Detection
As it is attached to the patient's heart, it is smart enough to detect the live movements of the user. It uses BLE and cloud communication channels to send alerts to the doctors on their cloud/mobile app if a fall movement occurs. This feature is crucial when patients live alone or when the doctor remotely monitors multiple patients.
Recharging the Patch
It has a long-lasting battery that can operate continuously for seven days. Moreover, it includes a charger, ensuring you can recharge the device whenever necessary to ensure that your health data is continuously tracked accurately without the risk of the device running out of power.
Schedule to Monitor
It allows doctors to schedule when to start recording patient heart data per the patient's requirements. Certain health conditions and assessments need a data record on intervals, such as post and pre-meals, during sleep, fasting, etc.
Other General Features of Accu.live
? Measures 14 Different Body Vitals
? Real-Time Data
? Battery Life up to 7 Days
? FDA-Approved Biosensor Technology
? ACL – Cloud App & Web Platform
Take control of your patient care with the Accu.live ECG Monitor
With its advanced features and user-friendly design, the Accu.live Wearable ECG Monitor is the perfect tool for any healthcare professional who wants to stay ahead of the curve.
The Role of Big Data in Healthcare
As discussed earlier, data is the soul behind everything; Data Collection in Medical Devices plays an influential role in the healthcare industry, presenting a vast stretch of data analyzed to improve patient outcomes, optimize resource allocation, and promote medical research. To better understand this metric, here are a few examples of how big data revolutionizes the healthcare industry.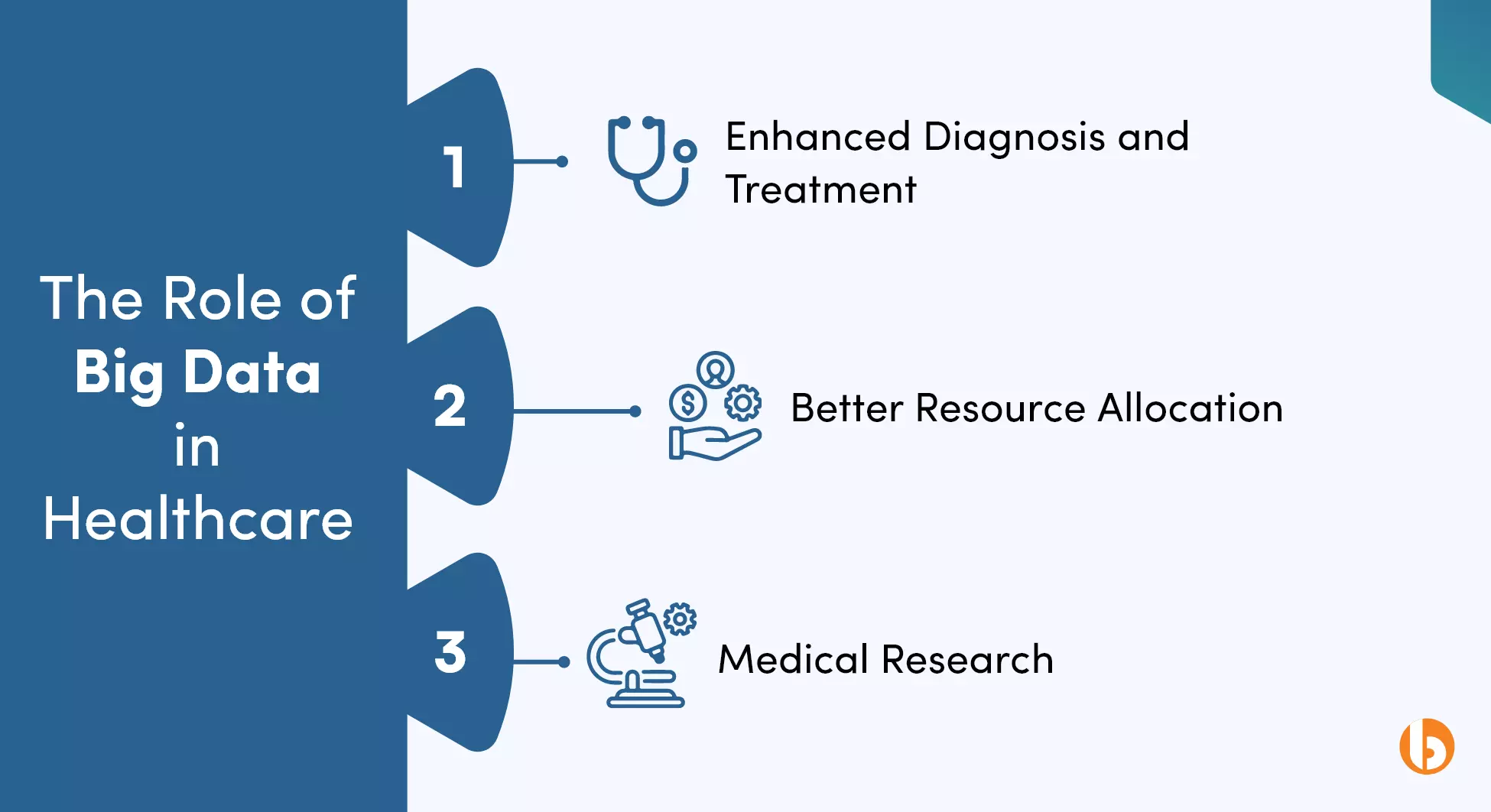 Enhanced Diagnosis and Treatment
The enormous amount of healthcare data allows us to scrutinize routine patient metrics and detect patterns and trends that may not be evident to individual healthcare professionals. The collective data facilitates more precise analysis, improving diagnosis, customized treatment plans, and patient outcomes.
Better Resource Allocation
The extensive data represents and highlights the overall statistics of the healthcare industry and the utilization of resources, which helps put a check on the underutilization and overutilization of resources to enhance efficiency and patient care.
Medical Research
Data is the core reason the medical research industry has taken exponential growth in terms of human health and increasing the average human lifespan over the years. This extensive data enables researchers to study and discover new treatments, develop better medications and gain insights into the fundamental causes of diseases.
Accu.live provides a platform for remote patient monitoring, generating extensive data that you can analyze to improve patient outcomes. This continuous monitoring of patients' vital signs and various other health metrics enables healthcare providers to detect potential issues before they become severe and adjust treatment plans accordingly.
Future of Data Collection in Medical Devices
After considering the all-around aspects of healthcare data monitoring, discussing the future of big data and wearables in healthcare will thrive. The Data Collection in Medical Devices especially the wearables like smartwatches, fitness trackers, and other sensors generate massive patient health data. By analyzing this data, healthcare providers can obtain insights into patients' health trends and identify potential health risks. Also, in the days to come, the wearables will monitor patients in real time, allowing for more proactive and personalized healthcare.
Therefore, we can infer that big data transform healthcare by enabling more accurate diagnoses, improving treatment outcomes, optimizing resource allocation, and contributing to medical research. Accu.live by Bacancy is contributing to big data in healthcare by providing platforms for remote patient monitoring. And with the proliferation of wearable devices, the future of big data and healthcare is bright.
Conclusion
In conclusion, Accu.live wearable ECG monitor is the perfect example of advancements in human healthcare addressing the Data Collection in Medical Devices challenges and providing accurate and non-invasive monitoring and how technology can improve medical data collection and patient care. Its advanced sensors and algorithms, real-time monitoring and alerts, and long battery life ensure reliable data collection, crucial for improving patient outcomes. The data collected by Accu.live is contributing to the growing field of big data in healthcare, which has the potential to revolutionize medical research and treatment. As wearable technology becomes more widespread and widely accepted by end users, devices like Accu.live are expected to emerge, providing powerful means to improve healthcare developments.