Quick Summary:
We do not need to emphasize the importance of keeping your heart's pumping under check and control. It is eminent, and technology plays a crucial role in detecting your heart's wellness. Know about the Cardiac Monitoring Devices, why it is essential to monitor your heart ratings, benefits of cardiac monitoring for patients and doctors.
Is there anything that you have in mind? Do share your thoughts with us in the comments section. We will surely see to it if we can come up with something relevant and useful.
Introduction
The pandemic has made it nearly impossible for people to visit hospitals and clinics without the fear of contracting the virus. It is even more dangerous for people suffering from heart diseases as the virus can be fatal in such cases. Cardiac Monitoring Devices continuously monitor the heart and help to detect any form of irregular heartbeats. This advancement in technology supports enhanced and quick treatment of patients on time.
What is a Cardiac monitoring device?
A cardiac monitoring device is a small gadget prescribed by the doctor/physician to monitor a patient's heart condition from a distance, remotely. The device is so small that it can be easily carried in the front pocket of the shirt (preferably near the heart) or taped on the chest. It is then connected to a mobile app through Bluetooth or BLE.
Advanced technology enables the device to catch even the smallest possible sounds and aberrations in the heartbeat. These small anomalies and irregularities are called heart arrhythmias. If the arrhythmias occur consistently, there is a problem in the heart and medical help is needed.
Additional Information Given By Cardiac Monitoring Device
These days there are smart wristbands available to monitor your heart and health. Such devices have microprocessors built-in to determine heart rate frequency and blood pressure, which is beats per second in your cardiac cycle.
The Heart Rate Variability (HRV) is a measurement of the time difference between heartbeats or the regularity of heartbeats. Now, your heart rate varies based on several factors such as your emotions, stress, sadness, and more.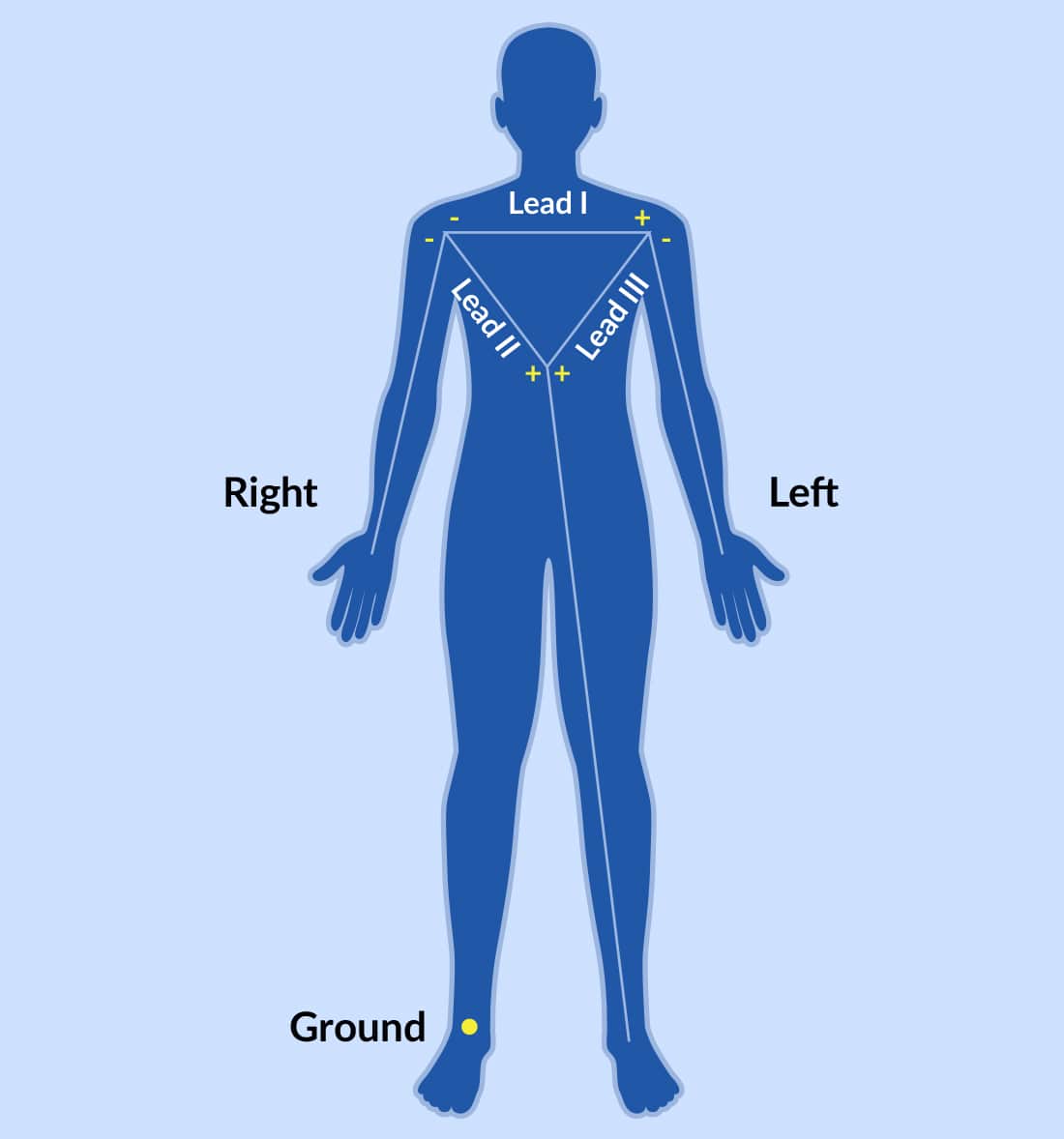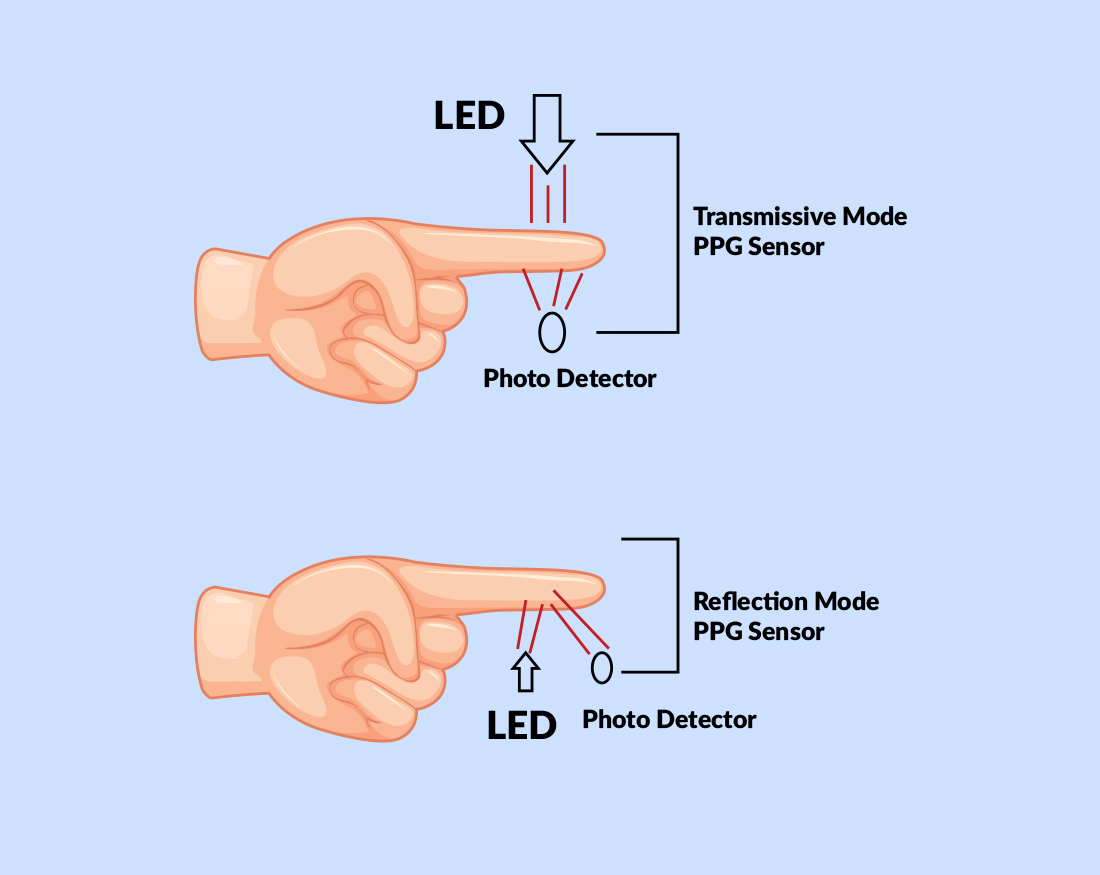 There are two popular biosensors in the commercial usage for recording heart rhythms non – invasively, which are:
Electrocardiogram (ECG)
Photoplethysmography (PPG)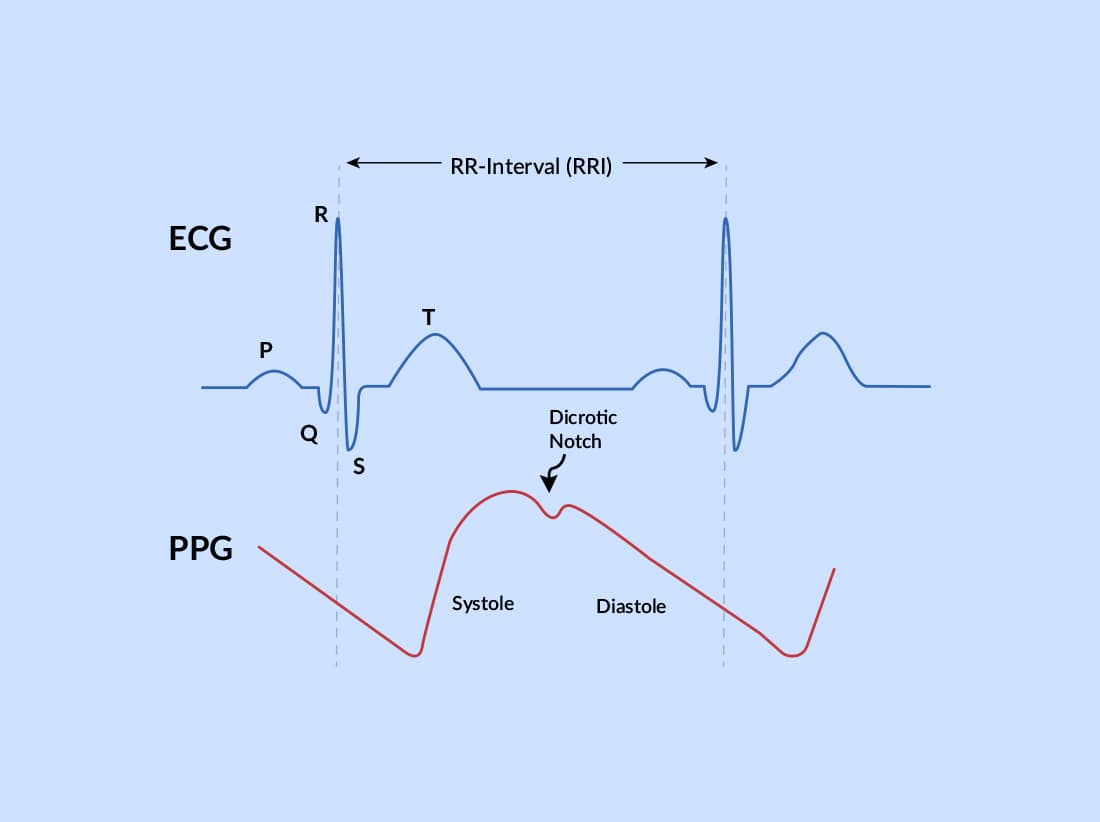 In the first one, the more popular one amongst the two, the ECG detects your heart's rhythm and electrical activity. Whereas in the second method, PPG uses light-based technology to determine the blood flow rate in your body.
2 Ways of BP Measurement: Using ECG & PPG
Blood Pressure monitoring with ECG:
ECG uses the frequency whole-based method to measure the BP using the vector extraction method. It extracts entropy, signal complexity, signal mobility, and autocorrelation which is then fed into the ML algorithm to train the model.
Blood Pressure monitoring with PPG:
The PPG signal, along with the systolic-diastolic peak, the dicrotic notch is used by the ML algorithm to detect the BP. The key aspects in accurate estimation of BP using PPG are variability signal and modified Normalized Pulse Volume (mNPV).
Blood Pressure monitoring using ECG & PPG together:
The Diastolic and Systolic blood pressure are estimated with the Pulse Transit Time(PTT) between the R-wave of ECG and PPG.
Trivia: As your heart beats, the SBP measures the pressure in your arteries; whereas, the DBP measures the heart's pressure when it rests between consecutive beats.
However, you may notice a notable difference between ECG and PPG readings of BP. Such differences arise because of the following reasons:
Irregularities in heart rate
Abnormal heart shape
Side-effects of medications
Electrolyte imbalance
Heart attack
Benefits of Cardiac Monitoring Devices for Patients
Today, doctors and healthcare professionals are updated about their patients' heart problems with the help of these devices and can take action before anything goes wrong. Let's look into the various measures that prove cardiac monitoring services to be beneficial for patients:
Cardiac Patients do not need to visit hospitals as the heart monitoring devices always keep an account of the patient's heart waves.
Less time is required to detect any sort of heart disorder and that helps the patient to avail the appropriate treatment on time.
Patients under cardiac monitoring devices have a higher probability of survival during fatal times since they receive the treatment at the correct hour.
Cardiac Monitoring Devices provides Cardiac ECG Monitoring Services to hospitals and physicians that the patients can avail themselves of.
This helps the doctors to keep a check on the patient's heart waves while the cardiac patient has the freedom to carry on with his daily activities.
Cardiac Monitors allow patients to visit hospitals at their convenience and do not intrude on a person's daily life.
Benefits of Cardiac Monitoring For Healthcare Professionals
Cardiac Monitoring Devices grant recording services to clinics and physicians so that they can keep a track of their patient's heart waves and provide individual care to them.
Here are some steps by which cardiac heart monitoring devices assist healthcare professionals:
ECG monitoring services keep the healthcare professionals updated about their patient's heart rhythm 24/7, this makes it easier to detect any form of heart complications.
Healthcare professionals can guide the patients better regarding exercises the patient can do and provide a health chart as per the cardiac patient's need.
This can be done with the help of the data recorded by the cardiac monitor.
Cardiac monitors allow the doctor to keep track of the patient's needs without having them visit in person.
Cardiac Devices provides Monitoring services to hospitals and physicians to take care of the patients with the help of the data collected by cardiac monitors.
Sometimes, it becomes impossible for the healthcare givers to keep track of the data of all the cardiac patients.
Remote monitoring services have made this easy as they send signals to the doctors regarding any form of heart disorder he/she might suffer.
This improves the quality of treatment the healthcare professionals provide.
Conclusion
At Bacancy Systems, we provide altruism Health remote monitoring framework along with cloud and mobile applications. Our hardware developers have expertise in developing exclusive patch named – Accu.Live Wearable ECG Monitor that monitor the blood glucose and heart rate of users. Accurate and precise heart rate monitoring is crucial and we ensure to provide solutions that can bring favorable results in humanity encouraging good health.
Frequently Asked Questions (FAQs)