ETC Expo Las Vegas, USA
The Embedded Tech Convention (ETC), a center of excellence in the embedded technology and systems industry, facilitated unrivaled network opportunities for manufacturing and supplier industries across the globe.
The ETC Expo was held between 8 to 9 June'22 in Las Vegas, USA.
While ETC regularly organizes tech shows for OEMs, these have been largely in the conventional embedded domain. However, this was the first time ETC had organized an embedded tech convention dedicated to components of electric vehicles (EVs).
Over 4500 exhibiting companies participated in the convention. The embedded tech convention emphasized the top EV future trends and sustainable mobility solutions while offering a platform for emerging product and service technologies in the embedded ecosystem.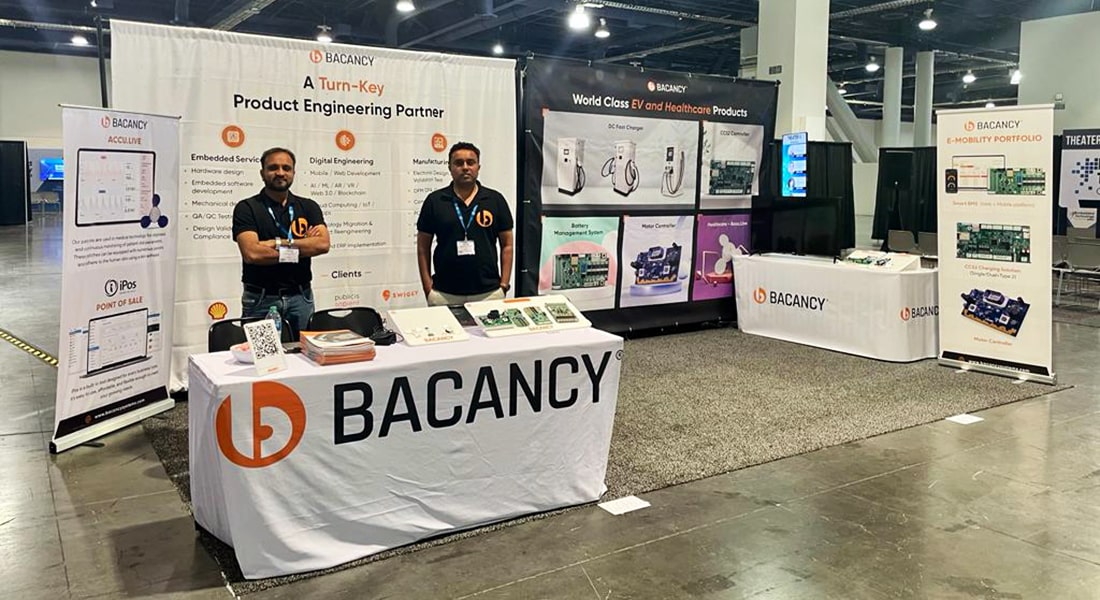 Bacancy's products and services were displayed at booth number 6042. We take pride in playing our part in being the market leaders for building future-ready EV and healthcare products. Our product portfolio includes smart battery management systems, EV charge controllers, DC fast chargers, motor controllers, healthcare patches, and remote health monitoring systems.
The innovation and acquisition in product engineering and embedded technology have significantly grown over the decade with the prompt evolution of new technologies to thrive for world-class systems and efficient computing abilities.
By 2025, the AI (Artificial Intelligence) software will surpass $126 billion, while the internet of things (IoT) valuation is estimated to be $754 billion.
The ETC unveiled the potential for manufacturers and suppliers to explore the applications of artificial intelligence, deep learning, embedded security, cloud connectivity, embedded automotive systems, research and development of sensor & chip technology, and many more across the evolving embedded industry.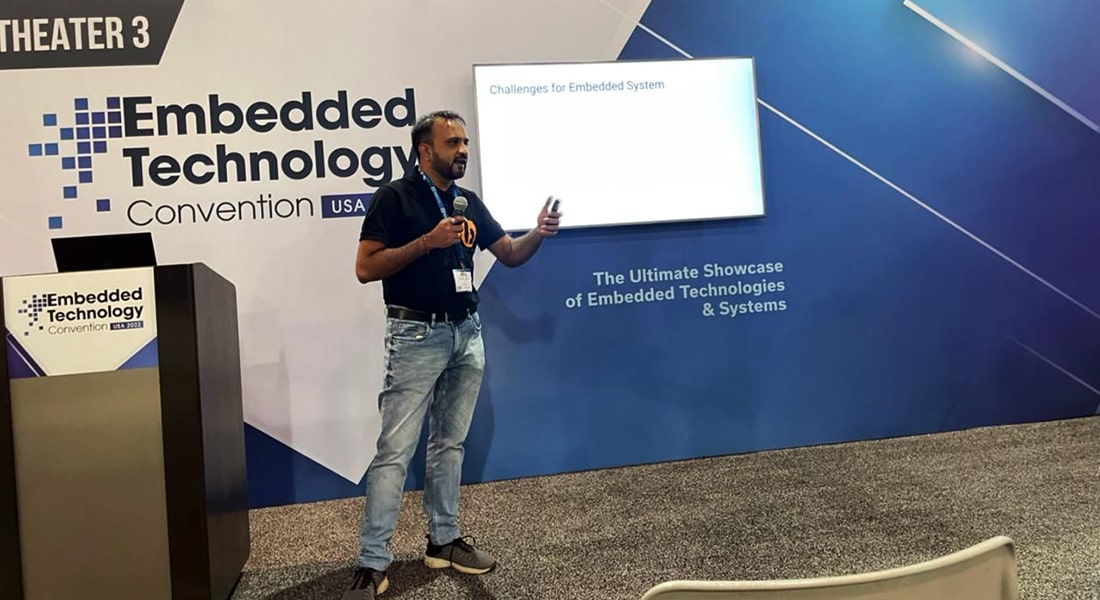 Our industry-leading speakers, Hardik Sheth and Krunal Patel, presented their insights on the dynamic facets of the embedded and product engineering industry.
Bacancy is a leading-edge organization, designing and delivering next-gen services and products in embedded software development, hardware, and mechanical design.
Serving for the technological developments, migration in IoT, AI/ML, and cloud computing, our vision is to support the digital transition for businesses, employing embedded tools and technologies.
Bacancy Systems, an extended venture of Bacancy, is a market leader in providing embedded and product engineering solutions and services. We specialize in hardware and firmware integration, migration services, design, validation, prototyping, and compliance testing.